This is an archived article and the information in the article may be outdated. Please look at the time stamp on the story to see when it was last updated.
A man and a woman from Whittier were arrested on suspicion of murder after attempting to enter Mexico on foot with the body of a 2-year-old girl inside a duffel bag, San Diego police said Wednesday.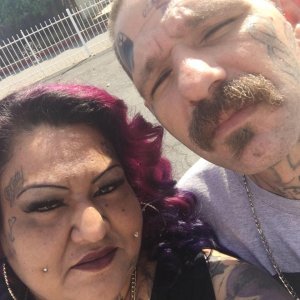 Johnny Lewis Hartley, 38, and Mercy Mary Becerra, 43, were arrested midday Tuesday, a news release from the San Diego Police Department said.
Police were contacted about noon by Mexican law enforcement, who reported that Hartley and Becerra had been stopped by customs agents at the San Ysidro Land Port of Entry as the pair tried to get into Tijuana.
"We were informed that a gentleman was detained who was carrying a duffel bag that contained the body of a small child," said San Diego police Lt. Ray Valentin.
When they were stopped, Becerra allegedly fled, and Hartley was taken into custody with a duffel bag.
"An X-ray of the duffle bag revealed a body inside," the police news release stated.
A 2-year-old deceased child was in the bag, police said.
The couple are not the girl's parents, Valentin told KTLA sister station KSWB.
The pair, both from Whittier, were trying to cross the border in the pedestrian lane, Valentin said.
Becerra was soon taken into custody by Mexican authorities, and the pair were turned over to U.S. investigators. Both were interviewed by homicide detectives and were booked into San Diego County jails.
"It has been determined that this incident may have occurred in Whittier," the San Diego police release said.
San Diego police were working with the Whittier Police Department.
Whittier police spokesman Officer John Scroggins said his department was not commenting and was referring calls for details to San Diego police.
A neighbor near a Whittier residence where the couple once lived said the pair had been evicted several years earlier. Hartley had about eight children, Henry Muñoz said.
Asked about the allegations against the pair, Muñoz said: "That's horrific."
A woman who had been in contact with Becerra on an e-commerce app was going to meet her but canceled at the last minute because Becerra was acting bizarrely.
An autopsy was being conducted Wednesday to determine the girl's cause of death, the San Diego Union-Tribune reported. There was little chance the toddler died a natural death, Valentin told the newspaper.
Inmate records show Hartley was booked about 7:30 a.m. Wednesday into San Diego Central Jail on suspicion of first-degree murder and child cruelty. He was due for arraignment Friday.
Becerra was booked into the Las Colinas Detention and Reentry Facility in Santee about 7:45 a.m. Wednesday on suspicion of the same charges. Her arraignment was also scheduled for Friday. It is unclear where the pair will be arraigned.
Whittier is about 120 miles north of the Mexico border, and east-southeast of downtown Los Angeles.
KTLA's Jennifer Thang and Kennedy Ryan contributed to this article.