This is an archived article and the information in the article may be outdated. Please look at the time stamp on the story to see when it was last updated.
A traffic stop in Fontana led police to arrest a man and a woman who are suspected of stealing mail and committing identity theft in the Inland Empire, among other charges, authorities said Monday.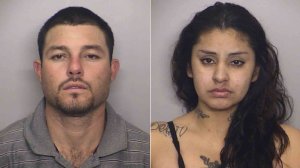 The discovery of allegedly stolen mail was made after officers pulled over a 2001 black Honda Civic in the 9000 block of Sierra Avenue about 12:30 a.m. Monday, according to a Fontana Police Department news release.
During the traffic stop, officers noticed a "large" amount of mail that did not belong to the vehicle's two occupants, prompting a further investigation, police said.
Police eventually arrested 30-year-old Servando Paz-Miranda, and 28-year-old Jazmin Ugalde, both of Riverside, on charges including possession of stolen property, possession of forged checks, possession of narcotics and identity theft.
They were each booked at the West Valley Detention Center in Rancho Cucamonga.
During the investigation, officers recovered stolen mail, checks, W-2's, government identification cards and narcotics, according to the release.
Police believe there are at least 50 victims in Riverside and San Bernardino counties.
No additional details about the case were immediately released.