This is an archived article and the information in the article may be outdated. Please look at the time stamp on the story to see when it was last updated.
Alhambra police are asking for the public's help on Tuesday after a man and woman were caught on security footage stealing patio furniture.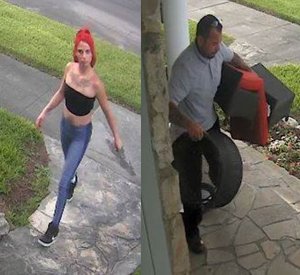 The pair drove to a home in the 1200 block of East Hoeffer Drive around 4 p.m. on Sept. 20 and removed the furniture from the front porch.
The suspects then fled the scene in a gold SUV, police said. Both suspects are described as "standing out," according to one resident.
"She's very recognizable, especially with the red hair," said Oscar Ceron, an Alhambra resident. "Even the gentleman carrying the furniture, they're both very recognizable."
A victim told KTLA that he has home security footage of the woman stealing a package off of his porch earlier in the day.
"My neighbor called me and she said there was a suspicious woman around here," said Rene Robles, a victim. "So I looked at the video camera and I saw this distinct red, pinkish kind of hair. We were surprised by the nerve. Even though I have iron gates here she still tried to attempt that anyway."
Anyone with information about this incident is asked to call the Alhambra Police Department at 626-308-4875.