This is an archived article and the information in the article may be outdated. Please look at the time stamp on the story to see when it was last updated.
Arson investigators are working to determine what caused a fire in a strip mall in the South Park neighborhood of South Los Angeles that left two people dead Tuesday morning.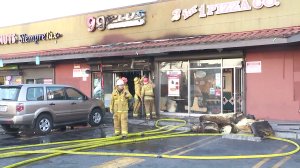 The fire broke out in the 4700 block of South Broadway Street sometime before 5:35 a.m., according to Los Angeles Fire Department spokeswoman Margaret Stewart.
Firefighters arrived to find one unit of the one-story strip mall well involved, Stewart said.
Inside the structure, emergency crews rescued a man and a woman who were transported to a nearby hospital in grave condition, Stewart said.
The man, whose age was unknown, and the woman, who was about 40 years old, were both pronounced dead at the hospital, Stewart said.
A witness told KTLA the man and woman worked at the store and sometimes slept there.
Chris McCanta, sister of one of the victims, said the pair had just moved from Las Vegas and had taken over the business.
The cause of the fire appears to be accidental, and there were no working smoke detectors in the building, officials said.
KTLA's Alexandria Hernandez and Cindy Von Quednow contributed to this report.