This is an archived article and the information in the article may be outdated. Please look at the time stamp on the story to see when it was last updated.
A homicide investigation is underway after a man and woman were found dead Sunday night at an apartment building in Newport Beach, authorities said.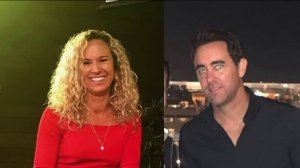 The pair were identified as Wendi Miller, 48, of Costa Mesa, and Darren Partch, 38. They were found just before 9:30 p.m. inside Partch's apartment by Partch's roommate at the Villa Siena complex in the 2100 block of East 15th Street, Newport Beach Police Department Officer Heather Rangel said. The caller told authorities he found his roommate and a woman he didn't know dead inside their unit when he arrived home. The cause of death is under investigation, Rangel said. The case is being investigated as a double homicide. Friends of both victims said they can't believe anyone would want to hurt them. "She was a Christian and a really sweet lady who would do anything for you," one neighbor Terri Rawson of Wendi Miller. "It's shocking and heartbreaking that she won't be with us. I'm really going to miss her because she's a great neighbor." Friends said the two were last seen being dropped off in Miller's white convertible Lexus around 1:45 a.m. Saturday, which was parked near the Sandpiper Bar in Laguna Beach. She had apparently been there Friday evening, along with the Skyloft. Her friends said she was going to give Partch a ride home; the two only live a few blocks away from each other. Miller's friends and family began circulating a missing person post on social media, and reaching out to news outlets when the mother of two went missing after the night out. Monday, authorities confirmed that Miller and Partch had been killed inside Partch's apartment. Miller's son posted on Facebook that his mother had been shot. "The cops are saying that it's a homicide, which means it's not a murder/suicide. So somebody killed them. So where's the killer?" neighbor Debbie Moore-Miller said. Friends said Partch grew up in Agoura Hills, played hockey for several years in several different leagues around the country, and was now working as an account executive. Miller was well-known and liked around her neighborhood. She had started a non-profit called Wings for Justice for families experiencing injustice inside the family court system. She started the organization based on her own personal experiences with her ex-husband. Investigators said there was no sign of forced entry and they do not believe there is any threat to the public. Anyone with information was asked to contact Detective Rick Henry at 949-644-3797.
KTLA's Jennifer Thang contributed to this report.