This is an archived article and the information in the article may be outdated. Please look at the time stamp on the story to see when it was last updated.
Homicide detectives are investigating the deaths of a man and a woman who were found stabbed in a Baldwin Park residence on Tuesday, the Los Angeles County Sheriff's Department said.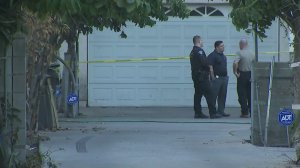 Officers from the Baldwin Park Police Department were initially dispatched to the 4200 block of Center Street around 11:45 a.m. for a "check the welfare" call, according to a sheriff's news release.
When they arrived at the location, an apartment complex, the officers discovered the two victims with apparent stab wounds to their chests. Both were pronounced dead at the scene.
Authorities have not yet identified the man and woman. The relationship between the two was also not immediately known.
The motive was also under investigation. Detectives said they have not determined whether the case is a double-murder committed by a third person, or if it was possibly a murder-suicide.
"We're in the early stages of processing the scene and all theories are still on the table," said sheriff's Lt. Rodney Moore.
One neighbor told KTLA that police were at the complex the day before, for about 45 minutes; she was unsure why they were there, but said they "walked out ... pretty nonchalant."
There was no additional information about the Christmas Day visit from sheriff's officials.
According to resident Breann Tang-Gaddi, the family was new to the building, having just recently moved in.
"It really sucks because, you know, it's just after the holidays," she said.
Authorities have not released any additional information about the investigation.
Anyone with information is urged to contact the sheriff's Homicide Bureau at 323-890-5500, or you can leave an anonymous tip by calling 800- 222-8477.