This is an archived article and the information in the article may be outdated. Please look at the time stamp on the story to see when it was last updated.
A man and woman were both in custody in connection with a robbery incident caught on video at the Hawthorne Auto Square on Tuesday, police said.
Officers responded to the car mall on the 11600 block of Prairie Avenue around 10 a.m. after a female employee reported being robbed, said Hawthorne Police Lt. Gary Tomatani.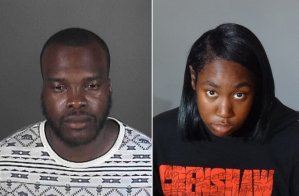 Security video from the business shows a man ripping the woman's purse off of her arm, knocking her to the ground.
"The victim had a bag that was around her shoulder actually ripped off of her shoulder," Tomatani told KTLA. "He spun her around and forced her to the ground."
She suffered bruising to her legs, but was treated and released and released from the hospital by Tuesday night.
The employee had been on her way to make a bank deposit with the auto mall's proceeds.
Her coworker Tymarc Warren said she had thousands of dollars accumulated during Labor Day weekend on her, and he believes she was targeted.
"I think he must have been watching her or something like that," Warren said of the robber.
The surveillance footage shows the purse snatcher running from the auto center with the woman's purse, with her coworkers in close pursuit.
The employees and other witnesses chased the man as he fled into a neighborhood west of auto dealerships.
"Everyone was chasing after him and he ran across the street," where the group monitored him until police responded, Warren said.
Authorities set up containment lines using a helicopter, K-9s and drones. Video from the scene shows a large police presence in the surrounding neighborhood.
Officials were eventually able to locate the man, identified as 33-year-old Ronnie Brown, and take him into custody, Tomatani said.
He was seen wearing a shirt reading "I'm kind of a big deal!" as he was loaded into the back of a police SUV.
Monique Wilson, 23, who was believed to have been coming to pick up Brown and help him escape, was also taken into custody, Tomatani said.
Both suspects are Los Angeles residents. Neither was believed to have been armed, the lieutenant added.
The auto mall's money has since been returned.
"Fortunately there were enough people that witnessed the robbery that the stolen property was recovered almost immediately," Tomatani said.