This is an archived article and the information in the article may be outdated. Please look at the time stamp on the story to see when it was last updated.
Investigators sought the public's help Tuesday identifying a man who robbed a woman at gunpoint at a shopping center in El Segundo, as well as his getaway driver.
The incident happened around 4 p.m. Sunday at The Point on 840 S. Pacific Coast Highway, El Segundo police said.
According to authorities, a man came up to a 29-year-old woman and pointed a handgun at her, demanding her cellphone.
The victim gave him her phone before running away, police said. The man then got into a vehicle driven by a female driver, who then sped onto the PCH, officials added.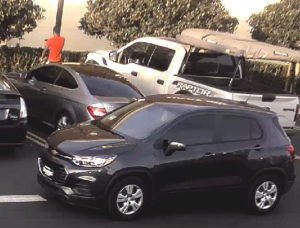 Police described the man as a 20 to 22-year-old about 5 feet, 4 to 5 feet, 6 inches tall with a shaved head and a line shaved on his left eyebrow. He was wearing a red t-shirt bearing a Nike logo and skinny jeans, detectives said.
The driver was described as a black woman about 30 years old with a medium build and long, brown hair.
The vehicle used was a black, newer model Chevrolet Trax with Nissani Bros. paper license plates, police said.
Anyone with information can contact Detective Vee Jones at 310-524-2263.