This is an archived article and the information in the article may be outdated. Please look at the time stamp on the story to see when it was last updated.
A man was hospitalized with a bullet wound to his head and a woman was also injured after they were both struck in a car-to-car shooting on the 210 Freeway in Fontana Thursday morning. No arrests have been made.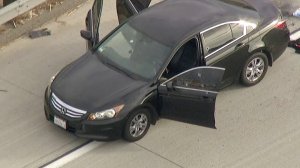 The incident occurred about 6:40 a.m. in the westbound lanes of the freeway near Beach Avenue, just before the 15 Freeway, a California Highway Patrol spokesperson confirmed.
The woman's shoulder was grazed by a bullet and she and the man were later identified as a brother and sister in their 20s, according to Jesus Garcia, a CHP spokesperson.
A shooter apparently pulled up alongside their vehicle and fired several shots, Fontana Police Department Officer Jay Sayegh said.
The man, who was the driver of the vehicle, was taken to Arrowhead Regional Medical Center and underwent surgery, officials said. His injuries were not life-threatening, CHP officials said.
Just over three hours after the shooting, at around 10 a.m., Garcia said he was in stable condition and speaking with investigators at the hospital despite suffering a bullet wound to the head.
Investigators later determined the bullet hit him in the head and exited through his eye, Garcia said.
Video from the scene showed multiple bullet holes in the driver's side of the victim's vehicle.
The suspect's vehicle was described as a 2007-2011 gray, four-door Honda Accord with tinted windows. The license plate number was unknown, and there was no damage to the car, officials said.
Authorities did not release a suspect description but said the person was driving recklessly in the moments leading up to the incident.
The westbound side of the freeway was expected to remain closed until about 10:30 a.m. while officers searched for bullet casings, Garcia said.
Anyone with information can contact CHP investigators at 909-806-2400.
KTLA's Irving Last contributed to this report.