This is an archived article and the information in the article may be outdated. Please look at the time stamp on the story to see when it was last updated.
The assistant manager of an East Los Angeles bank branch who had a fake explosive device strapped to her chest as part of a nearly $600,000 bank heist has been indicted as member of the group that allegedly planned the crime.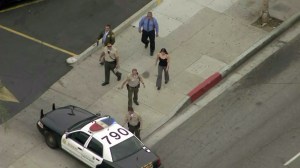 Aurora Barrera was indicted Thursday alongside her boyfriend Reyes Vega for planning and executing a bizarre robbery that took place in September 2012 at the Bank of America branch in the 900 block of South Atlantic Boulevard.
Barrera was due in federal court Friday afternoon, a spokesman for the U.S. Attorney's Office for the Central District of California said.
Barrera originally told authorities she was kidnapped from her Huntington Park home, held against her will, strapped with a  bomb and made to retrieve money from the bank branch where she worked, Los Angeles County Sheriff's Department officials said at the time.
After the robbers got away with the money, a bomb squad and SWAT team responded to the scene, and Barrera was questioned.
Three men, including Vega, were eventually indicted in May. But Barrera was not named as a suspect until her indictment by a federal grand jury on Thursday.
She and Vega were charged with conspiracy to commit bank robbery as well as the robbery itself.
According to the indictment, Barrera planned the robbery along with Vega and alleged co-conspirators Richard Menchaca and Bryan Perez, who both drove getaway cars belonging to Vega's father.
Barrera allegedly told Vega about bank procedures to help plan the robbery.
Then, on the morning of the robbery, Vega allegedly attached a fake bomb to her "to make it appear that Barrera was a hostage in a bank robbery and that the purported explosive device would detonate unless an employee at the bank helped defendant Barrera remove money from the bank's vault," the indictment stated.
She allegedly took $565,500, placing it outside the bank's side door, where Menchaca allegedly grabbed it.
The money was later split among the three men at a hotel, the indictment states.