This is an archived article and the information in the article may be outdated. Please look at the time stamp on the story to see when it was last updated.
Ahead of forecasted high winds, authorities said Tuesday the 656-acre Getty Fire was caused by a tree that fell onto power lines and started the blaze.
Evacuations remained in effect for thousands who will not be allowed back in their homes until at least Wednesday, authorities said.
"People will not be returning to their homes this evening," Los Angeles Mayor Eric Garcetti said during an 8 a.m. news conference. The mayor asked evacuees to "stay safe and stay away."
Some of the most powerful winds of the season, with gusts up to 70 mph, are being forecast to arrive around 11 p.m. in the area. They are expected to last through the night and peak at 3 a.m., according to Los Angeles Fire Department Chief Ralph Terrazas.
Those strong Santa Ana winds have fire officials concerned about a possible flare-up.
"It only takes one ember to blow downwind to start another fire," Terrazas said. "Embers have been known to travel several miles," he said.
The massive wildfire may have been sparked by tree branches blowing into power lines early Monday morning, according to city official who did not want to be named but has knowledge of the investigation.
Investigators determined this by analyzing cellphone videos of people driving through the Sepulveda Pass at the time of the fire, the official said. One of the videos apparently shows sparks flying when a tree branch hit the power lines.
Crews were at the possible ignition point of the fire Tuesday morning, using pink tape to mark off an area around the suspected power pole.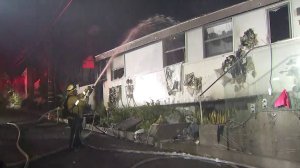 As of 2 p.m., the blaze had scorched 656 acres and was 15% contained, according to authorities. During the afternoon, Garcetti said evacuations were still expected to remain in effect.
Twelve homes have been destroyed and at least five others were damaged authorities said Tuesday afternoon. Many of the homes burned on Tigertail Road shortly after the wildfire erupted off the 405 Freeway in the Sepulveda Pass.
State Sen. Ben Allen, who represents parts of West L.A. and the South Bay, said firefighters have been working 24- and 48-hours shifts. A total of 24 fire department have been assisting LAFD, Terrazas said.
All homes, with the exception of the Mountaingate community, remain under mandatory evacuation orders within the following boundaries:
Temescal Canyon Road is the west border
Sunset Boulevard is the south border
Mulholland Drive is the north border
405 Freeway is the east border
The number of evacuated homes was estimated at more than 9,000, Garcetti said.
Evacuation shelters are open at the following locations:
Palisades Recreation Center located at 851 Alma Real Drive.
Westwood Recreation Center located at 1350 S. Sepulveda Blvd.
Small pets are welcome at both locations. Large animals can be taken to the Hansen Dam Recreation Area located at 11798 Foothill Blvd. in the Lake View Terrace area.
Fire crews and water-dropping helicopters worked through the night and were still out in force Tuesday morning, attempting to keep any hot spots from flaring up.
The fire has prompted Los Angeles Unified School District officials to cancel classes at several schools for a second straight day, and some would remain closed a third.
Some schools will be reopening on Wednesday, Oct. 30, while others will remain closed due to the #GettyFire. Check https://t.co/AZDfmuaMmu: https://t.co/rQRZgtIQ36

— L.A. Unified (@LASchools) October 30, 2019
The Santa Monica/Malibu Unified School District, University of California Los Angeles and Santa Monica College, which were all closed on Monday, tweeted that classes would resume for students on Tuesday.
Firefighters are hoping to increase containment as much as possible Tuesday before the strong Santa Ana winds arrive overnight.
The National Weather Service has issued an extreme red flag warning beginning at 11 p.m. and continuing through 6 p.m. Thursday for Los Angeles and Ventura counties.
San Bernardino, Riverside and Orange counties will be under red flag warnings for the same time period.
A red flag warning means there is an increased probability of fire ignition due to warm temperatures, low humidity and strong winds.
Monday's fire prompted officials to temporarily close a portion of the southbound 405 Freeway in the Sepulveda Pass area. The freeway has since reopened but several off-ramps remain closed.
All northbound and southbound 405 Freeway off-ramps are closed until further notice between the 101 Freeway and Sunset Boulevard, the Fire Department stated.