This is an archived article and the information in the article may be outdated. Please look at the time stamp on the story to see when it was last updated.
Two mandrill babies have made their debut at the Los Angeles Zoo, officials announced Monday.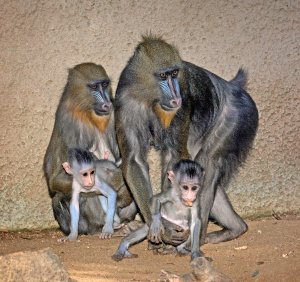 The male and female half siblings were born last month to different mothers, who came from Parc Zoologique de La Palmyr in France last year.
Their father, Jabari, is paired with the mothers for a species survival program to strengthen the gene pool.
"This species comes from a small area in Africa that isn't accessible to most people, so it's very special that our guests can now observe babies here for the first time in over 40 years," said zoo animal keeper L'Oreal Dunn.
The babies were born without the red and blue stripes often associated with mandrills, but their father, who is a dominant male, does have the vibrant coloring. The stripes on a male mandrill's face is a sign that they are ready to mate.
Since being born, the monkeys have been clinging to their mothers, playing together and testing their new boundaries. Their new habitat is a rainforest-like environment with trees, logs and play life to explore during the day. They also have lofts and ledges to sleep at night.
Guests can view the babies, their mothers, Clementine and Juliette, and their father in their habitat starting Tuesday.