This is an archived article and the information in the article may be outdated. Please look at the time stamp on the story to see when it was last updated.
The emoji-smiling hot-pink house that launched a neighborhood brouhaha in Manhattan Beach is on the market.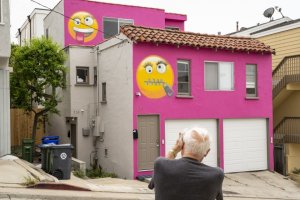 The beach-adjacent property was listed Monday for $1.749 million, two weeks after homeowners and renters in the El Porto neighborhood raised objections to the paint job at a City Council meeting.
The battle between homeowner Kathryn Kidd and her neighbors started in May, when residents reported Kidd to the city for illegally using her property for short-term rentals, such as Airbnb. After Kidd was fined $4,000 for violating the city's rental laws, the once-beige property was painted a loud pink, adorned with two yellow emoji faces. The unfolding saga was first reported by Easy Reader News.
Kidd purchased the 1931-built duplex in March 2018 for $1.35 million. According to Zillow, the property on 39th Street was listed in December 2018 for $1.99 million, before it was pulled from the market a few months later. Now it's up for sale again.
Read the full story on LATimes.com.