This is an archived article and the information in the article may be outdated. Please look at the time stamp on the story to see when it was last updated.
RIVERSIDE, Calif. — A massive manhunt is underway for a former LAPD officer and Navy reservist believed to have shot three officers on Thursday, killing one of them.
Dorner is also wanted in connection with a double homicide Sunday in Irvine, where the daughter of a retired LAPD captain and her fiance were killed.
The California Highway Patrol had issued a "blue alert" for nine Southern California counties early Thursday, indicating that Christopher Jordan Dorner, 33, was "armed and extremely dangerous."
Shortly after 9 a.m. that alert was broad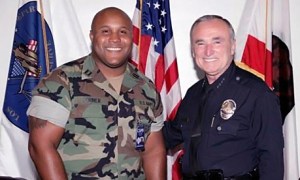 ened to the include the entire state.
Local, state and federal authorities are involved in the search for Dorner, who threatened "unconventional and asymmetrical warfare" against police in an online manifesto.
The search intensified early Thursday after three police officers were shot in Riverside County, including one fatally, and Dorner was identified as a possible suspect.
The first shooting happened around 1:30 a.m. in Corona, where two LAPD officers were providing protection for someone named in Dorner's manifesto.
The officers were approached by a citizen who directed them to a vehicle matching the description of Dorner's Nissan Titan pickup.
They responded to where the vehicle was parked and saw an individual who fit the description of Dorner.
The suspect vehicle sped away, and the officers followed as the vehicle entered the 15 Freeway near Magnolia Avenue.
The suspect then opened fire on the officers with a shoulder-type weapon (like a rifle) while they were in their vehicle, LAPD officials said.
The officers took cover and returned fire. One officer suffered a graze wound to the head and was treated at the scene. The other officer was not injured.
A short time later, two Riverside police officers were shot while on routine patrol in a marked unit near Magnolia and Arlington, police said.
The officers were stopped at a red light when they were ambushed.
They were not actively searching for Dorner, according to Riverside police Lt. Guy Toussaint.
Both officers were taken to Riverside Community Hospital, where one was pronounced dead.
The other officer underwent surgery Thursday morning and was listed in stable condition.
As authorities swarmed the area, two officer-involved shootings occurred in Torrance after police came across vehicles they thought might be Dorner's.
The first incident happened around 5:20 a.m. in the 19500 block of Redbeam Avenue.
It involved detectives from the LAPD's Hollywood division.
Two women delivering newspapers in Torrance were shot by Los Angeles police who were guarding an officer named in the manifesto.
The women, shot in the 19500 block of Redbeam Avenue, were taken to area hospitals, Torrance police Lt. Devin Chase said.
One suffered a minor wound, and the other was struck twice and listed in stable condition, LAPD Chief Charlie Beck told reporters.
"Tragically," Beck said, "we believe this is a case of mistaken identity."
The second incident, which involved Torrance police officers, occurred at Flagler Lane and Beryl Street about 5:45 a.m.
No injuries were reported in that incident.
Meantime, prior to the shootings early Thursday, police believe Dorner tried to steal a boat from an elderly man around 10:30 p.m. Wednesday at the Point Loma Yacht Club in San Diego.
The boat owner reported being accosted by a man who tied him up, threatened him with a gun and said he wanted the boat to flee to Mexico.
But a rope got tangled in the propeller while the suspect was trying to start the boat, rending it inoperable.
The suspect fled the scene and the boat owner was not hurt.
Around 2 a.m. Thursday, a wallet containing a badge and the ID for Dorner was found near Lindbergh Field, not far from the scene of the attempted boat theft.
It was found along Harbor Drive by a passerby and turned over to police. It wasn't immediately clear what agency the badge represented or it it was legitimate.
Earlier in the week, on Monday, items reportedly belonging to Dorner were found in National City, including what's being described as police gear.
The items were impounded and claimed by Irvine police on Wednesday as part of their investigation.
Dorner was named by Irvine police on Wednesday night as the suspect in the double murder of Cal State Fullerton assistant basketball coach Monica Quan and her fiancee, Keith Lawrence.
In the online manifesto, Dorner had specifically named Quan's father, former LAPD captain Randy Quan.
Randy Quan apparently served as Dorner's representative in the process that ultimately led to Dorner's dismissal.
Dorner was fired in 2008 for allegedly making false statements about his field training officer, who he accused of kicking a suspect.
In his online postings, Dorner said he suffered from severe depression and was filled with rage at the people who forced him from his job.
He said he didn't mind dying, because he had already died when he was fired form the LAPD.
Law enforcement sources said police have placed security at the homes of L.A. police officials named in the manifesto and believe Dorner has numerous weapons.
Dorner's last known address is in La Palma. He is described as a 6-foot-tall African American who weighs about 270 pounds, and has black hair and brown eyes.
Anyone with information is asked to call a tip line at (714) 724-7192. If you see Dorner, you should call 911 immediately.