This is an archived article and the information in the article may be outdated. Please look at the time stamp on the story to see when it was last updated.
A 39-year-old man suspected of failing to stop at a DUI checkpoint and then critically wounding two Sheriff's Department deputies during a series of shootouts in Bellflower has been taken into custody following a hostage situation, authorities announced Friday morning.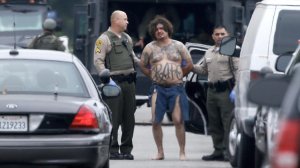 The incident began when deputies tried to pull over an erratic driver who knocked over a bunch of cones at a DUI checkpoint on Lakewood Boulevard at about 10:50 p.m., Deputy Trina Schrader with the Los Angeles County Sheriff's Department said.
A motorcycle officer followed the driver to the 16600 block of Lisa Avenue, where the driver exited his vehicle and then began shooting at the deputy, Schrader said.
The unidentified deputy was struck multiple times but did return fire, said Sheriff Jim McDonnell.
The gunman got back into his vehicle and drove a short distance to a cul-de-sac where responding deputies again tried to stop him, McDonnell said. He was later identified by the Sheriff's Department as Juan Martinez.
The suspect engaged authorities again and fired multiple rounds, striking a second deputy as they returned fire, McDonnell said.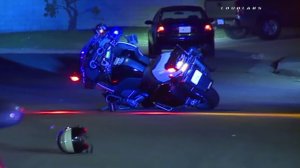 The man then fled on foot and exchanged gunfire a third time with another group of deputies, Schrader said.
No deputies were wounded in the third exchange, McDonnell said.
Deputies set up a perimeter of about four blocks near the intersection of Lakewood and Alondra boulevards and hoped to have the suspect contained to a small area, McDonnell said.
Authorities eventually located Martinez in a converted garage at a home in the 9000 block of Mayne Street, authorities on scene told KTLA.
Several people inside the home were being held hostage at the time, McDonnell said.
Authorities fired tear gas into the garage and eventually the suspected shooter came out and was taken into custody without incident, McDonnell said.
None of the people inside the house were injured in the incident.
The wounded deputies were taken to a nearby hospital, McDonnell said. One was listed in critical but stable condition after undergoing surgery, an afternoon news release stated. The other deputy was awaiting surgery and listed in fair condition.
Both deputies have been with the Sheriff's Department for about 10 years, McDonnell said.
Martinez was arrested on suspicion of attempted murder of a peace officer, and kidnapping of a civilian, according to the department. He was being held in lieu of $10,000,000 bail.
KTLA's John A. Moreno contributed to this report.