This is an archived article and the information in the article may be outdated. Please look at the time stamp on the story to see when it was last updated.
A manhunt involving U.S. Marines, Border Patrol agents and bloodhounds that began after a man was shot and injured at a home in Dana Point ended without anyone in custody, authorities said.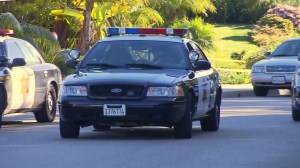 The initial investigation into the shooting began around 10 a.m. in the 32500 block of Crete Road (map), the Orange County Sheriff's Department said in a tweet.
The victim, described only as an adult man, was discovered with a gunshot wound to the hand and lacerations to the head, according to the Sheriff's Department.
He was taken to a local hospital and treated for injuries. His condition was not known.
The suspected shooter fled the scene in the victim's car, Lt. Jeff Hallock of the O.C. County Sheriff's Department said.
A pursuit ensued on the 5 Freeway and ended a short time later in San Onofre near the border of San Clemente, according to Hallock.
The vehicle was discovered, but the person got away, Hallock said.
Resources from the Border Patrol and the U.S. Marine Corps were assisting Sheriff's Department's bloodhounds with the search Saturday afternoon, authorities tweeted.
Shortly before 6 p.m., the Sheriff's Department tweeted that the active search had been "terminated," but that investigators were looking into other leads.
It was not known whether there was a relationship between the shooter and the victim, Hallock said.
#OCSDPIO: DP Shooting Investigation UPDATE – Resources from Border Patrol & USMC assisting OCSD bloodhounds with search for suspect.

— OC Sheriff, CA (@OCSheriff) March 9, 2014
KTLA's Doug Kolk and Amrah Khan contributed to this report.