This is an archived article and the information in the article may be outdated. Please look at the time stamp on the story to see when it was last updated.
The man who died during a fire that caused an explosion at an Orange house was identified Friday by the coroner's office.
Firefighters responded to reports of an explosion in the 600 block of Oakmont Avenue (map) around 11:20 p.m. Thursday.
"It was a large, loud sound. It sounded like a truck fell on my roof," neighbor and witness John Pritchett said. "I just ran outside to see what happened, there was smoke that filled the street."
Responding firefighters discovered a roll-up door that had blown off a garage and a fire inside the structure. The blaze was knocked down in five to 10 minutes.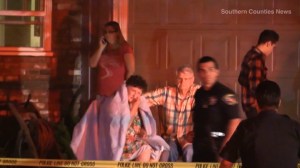 The body of 47-year-old Erik Christensen was discovered in the garage.
Flames were contained to the garage area, and did not harm residents who were in the main house.
An elderly couple who both had cancer lived in the home, along with their son, who Pritchett believed was the man who died.
"It was a horrible situation. He was burned badly, from the waste down it looked like a bomb had gone off," he said.
The cause of death and explosion was under investigation.
Authorities did not confirmed that Christensen was a resident of the home or son of the elderly couple.