This is an archived article and the information in the article may be outdated. Please look at the time stamp on the story to see when it was last updated.
A young man was found dead behind a dumpster near commercial businesses in Anaheim on Monday morning, prompting an investigation, police said.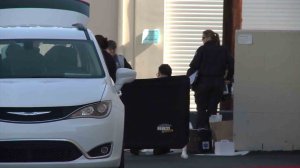 The man's body was discovered around 6:30 a.m. in the 1600 block of South Sinclair Street, which is located a short distance away from the Honda Center and Angel Stadium.
The victim, believed to be Latino and in his 20s, showed signs of trauma on his body, and investigators believe the case is a homicide, according to Anaheim Police Department Sgt. Daron Wyatt.
It was unclear whether the person was killed at the location, of if his body was dumped there, Wyatt said. It appeared the man had been deceased since around midnight.
His name has not yet been released. Police do not believe the victim was a transient.
Surveillance video shows an SUV pulling up and a man dumping the body, according to Raymond Berry, a man who works in the building.
"It's very disturbing because, a lot of times, my wife's here until midnight," Berry said. "I don't think that's going to happen any more."
When asked if it was related to any other cases in the area, including a fatal stabbing that occurred outside a Wal-Mart in Santa Ana last month, Wyatt said police believe the case is an "isolated event."
"Obviously, that is something that detectives will always look at, to see if it's related. At this point, it ... does not appear directly related to any of the commercial businesses around us, and it's all part of the investigation to weigh it through, see what we can come up with," he said.