This is an archived article and the information in the article may be outdated. Please look at the time stamp on the story to see when it was last updated.
A man's body was found floating in MacArthur Park Lake Wednesday morning.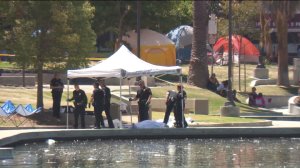 Officers responded to the lake, located at 653 S. Alvarado St., around 10 a.m. and found a man floating face down in the water, the Los Angeles Police Department told KTLA.
Officers tried to give the man CPR, and paramedics also tried to revive him, but he was pronounced dead at the scene.
The man appeared to be in his 50s, police said.
Witnesses said the man was acting erratically and jumped into the lake.
Police told KTLA they do not believe foul play was involved in the man's death.
No other information was immediately available.