This is an archived article and the information in the article may be outdated. Please look at the time stamp on the story to see when it was last updated.
A man's body was found in a refrigerator that was left dumped on an Ontario street, police said Tuesday morning.
The discovery was made about 6 a.m. in the northbound lane of traffic in the 700 block of South Hope Avenue, the Ontario Police Department said in a news release.
A man who was on his way to work found the fridge and got out to look at the appliance.
"He discovered the dead body partially hanging out of the refrigerator and called the police," the news release stated.
Police identified the victim as Jason Daniel Garcia, 36, of Downey. A police sergeant initially said the victim was believed to be in his 20s.
A cause of death was not immediately known, but there were no obvious signs of trauma on the body, which was fully clothed, Sgt. Jeff Higbee told the San Bernardino Sun.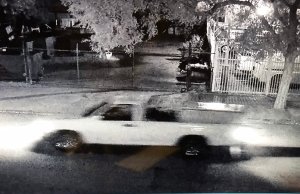 It was also not immediately clear how or when the fridge was placed in the street, which runs through an area of mixed residential and industrial lots.
On Tuesday evening, officials released a photo that appears to show the refrigerator loaded in the bed of a truck.
"We're canvassing the neighborhood, trying to see if anyone has any videotape, if anybody might have heard something, seen in a vehicle in the street that didn't belong," Higbee said.
He urged anyone with information to call police at 909-395-2001.
Detectives are investigating the discovery of a deceased male found inside a refrigerator in the street. 700 S Hope Ave.

— Ontario Police Dept. (@OntarioPD) September 5, 2017