This is an archived article and the information in the article may be outdated. Please look at the time stamp on the story to see when it was last updated.
Homicide detectives are investigating the death of a man whose body was discovered in a Kohl's parking lot in Newbury Park Saturday morning, authorities said.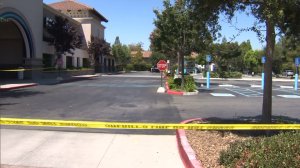 Deputies responded shortly after 6:30 a.m. to the Kohl's located in the 1900 block of Newbury Road after receiving a report of a bleeding person down in the west parking lot, according to Ventura County Sheriff's Office Sgt. Jason Robarts.
The man was deceased by the time deputies arrived at the scene.
It was not immediately known how the man died; his death has been classified as "suspicious," according to Robarts.
"We don't know what this is, we don't know how it happened," he said.
The man has not yet been identified, but he was believed to be in his mid-20s, according to the sergeant.
The Kohl's location was open, but the west parking lot was closed as authorities investigated the case.
No additional information has been released.