This is an archived article and the information in the article may be outdated. Please look at the time stamp on the story to see when it was last updated.
Los Angeles police on Sunday morning discovered a man's body inside an unplugged refrigerator behind a Sun Valley home where an illegal marijuana grow operation was also found, officials said.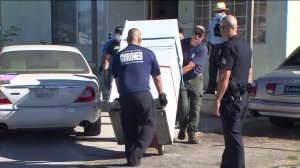 After responding to a report of a possible deceased person at a house in the 11100 block of Runnymede Street, officers located the body an unidentified man in his 30s inside the appliance, said Lt. Bob Toledo of the Los Angeles Police Department.
Investigators said they believed the corpse had been at the residence for several days.
"Also, at the rear of the house, we found a marijuana grow inside the rear garage area," Toledo said.
Police detectives launched a homicide investigation and interviewed at least four people Sunday afternoon, according to the LAPD.
"I heard an argument, I guess it was Friday night, but I really didn't think anything of it," neighbor Mickie Lambert told KTLA. "I didn't realize it was a grow house."
"They seemed nice enough," she said of the house's occupants. "I would just say hello."
Los Angeles County coroner's officials arrived at the home and used a hand truck to wheel the refrigerator, with the deceased person inside, out to the street before loading it into a department vehicle.
Meanwhile, investigators removed several lamps and large bags filled with marijuana. It was unclear how much pot was seized.
Another neighbor, who identified herself only as "Connie," described the neighborhood as "very quiet" and Sunday's discoveries as "very crazy."
"You don't know who's going to come to live near your house," she said. "You don't know who's your neighbor."