This is an archived article and the information in the article may be outdated. Please look at the time stamp on the story to see when it was last updated.
An investigation was underway Monday in La Mirada after a man's body was found on the street near a bus stop, authorities said.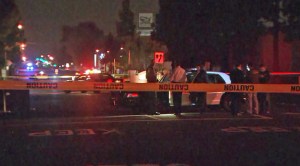 A Metro bus driver pulled up to a bus stop about  6:10 p.m. Sunday in the 14300 block of Alondra Boulevard, where he discovered the man's body in a gutter, according to a statement issued by the Los Angeles County Sheriff's Department.
The victim, who was described only as a Hispanic man, was pronounced dead at the scene.
"We don't know if the body was dumped [or if] he was shot at the bench," sheriff's Lt. Dave Coleman said. "His body, obviously, is lying in the gutter and it's surrounded by a substantial amount of blood. So it'll take a little bit for us to figure out what his position was when he was killed and then, of course, how he was killed."
Anyone with information was asked to contact the sheriff's Homicide Bureau at 323-890-5500.