This is an archived article and the information in the article may be outdated. Please look at the time stamp on the story to see when it was last updated.
SOUTH LOS ANGELES (KTLA) — Los Angeles police were keeping a watchful eye Tuesday, after peaceful protests over the George Zimmerman verdict turned violent Monday night.
Hundreds of protesters gathered in Leimert Park on Monday evening for a vigil in support of Trayvon Martin.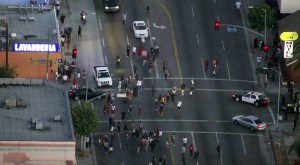 Then, sometime after 8 p.m., a group of as many as 150 people broke off and moved along Crenshaw Boulevard, authorities said.
Aerials of the street showed the demonstrators walking in large groups, at times blocking traffic.
A number of protesters were riding bikes, and others carried signs protesting the verdict.
Some people began engaging in lawless activity, jumping on cars and assaulting bystanders, according to police.
At one point, a group of marchers ran past security guards and into a Walmart store at the Crenshaw Mall.
The LAPD declared a tactical alert at 9 p.m. as protesters became more aggressive. As many as 350 officers responded to the area.
An unlawful assembly was later declared by police when protesters refused to disperse.
Sky5 was overhead when it appeared that a local TV news crew was overrun by some of the demonstrators.
The photographer was reportedly taken to a local hospital suffering from a concussion.
At least 14 people were arrested for failing to disperse, police said.
The unrest brought out some of the city's top officials, who held a news briefing around 11 p.m. on Monday.
"We are a better city than what we have seen tonight at the hands of a few people," L.A. Mayor Eric Garcetti said.
"We will make sure the community here in South Los Angeles is safe on its streets," he said.
LAPD Chief Charlie Beck echoed the mayor's call for peaceful protests, saying violence would not be tolerated.
"We deployed over 300 police officers, a dozen arrests, multiple incidents of vandalism, several incidents of assault," Beck said.
"This will not be allowed to continue," he said. "Unfortunately, the rights of the many have been abused by the actions of a few."
Beck also made it clear that authorities would be taking a harder line, requiring city permits for larger protest groups and responding quickly to any signs of unrest.