This is an archived article and the information in the article may be outdated. Please look at the time stamp on the story to see when it was last updated.
A brush fire that broke out Thursday evening on South Mountain has consumed almost 17 square miles, destroying three structures and threatening homes in Santa Paula and Somis, Ventura County officials
said
Friday. It was 0% contained. About 2,700 structures are being threatened and thousands of residents were still under evacuation orders, according to the Ventura County Fire Department. But some evacuation orders were lifted Friday night, according to fire officials. The streets residents were cleared to return to included North Greentree Drive, Kinsgrove Drive, Donlon Road, San Canyon Road, La Cumbre Road, North Olive Drive, North Paso Flores Road and Quail Canyon Road.
The Maria Fire burned more than 10,700 acres in a little over 24 hours after erupting about 6:15 p.m. Thursday during the tail end of the Santa Ana wind event that fanned multiple
fires across Southern California
. Those include the
1,860-acre Easy Fire
that continues to burn about 20 miles southeast in Simi Valley. "We're in the middle of a big fight, and the end is not in sight," Ventura County Fire Chief Mark Lorenzen said during an afternoon news conference Friday. The Fire Department is under unified command with Cal Fire and the Ventura County Sheriff's Office. Additional Cal Fire resources will be added to the blaze on Friday evening, Lorenzen said. Winds were blowing on South Mountain from the northeast at about 20 to 25 mph, with gusts up to 35 mph on Thursday night, and the air was very dry with the humidity dropping to 4 to 8%. Shifting winds pushed flames down to the riverbed between the mountain and Santa Paula, threatening structures, Chief John McNeil said. Crews quickly responded, battling the flames from the ground and from the air, but two structures were damaged in the area. As the fight continued, winds and access issues created a challenge for firefighters, especially at the top of South Mountain, where strong gusts and a wind shift were in the forecast. McNeil said the mountaintop remains an "area of concern." A red flag warning remains in effect in Ventura County, and temperatures in the area where the fire is burning are expected to reach the 80s Friday, creating ripe conditions for fire. The warning was previously in place until Friday evening, but was extended to 6 p.m. Saturday, when those conditions are expected to remain, a National Weather Service Official said Friday afternoon. More than 1,300 firefighters are battling the flames on the ground and from the air as they work on protecting critical infrastructure, including radio communications and high-voltage power lines, according to the
Ventura County Fire Department.
Crews are also working to stop the blaze from spreading to avocado and citrus orchards and other crops. Changing winds are creating challenges for firefighters in the area.
Our firefighters are not only continuing to fight the #MariaFire, but also working hard to protect orchards and save the wildlife. https://t.co/5wC1jn4Pw6 @VCFD pic.twitter.com/GvjByIOWvJ

— VCFD PIO (@VCFD_PIO) November 1, 2019
#MariaFire Update: A brief wind shift has blown embers into the river bottom on the North West corner of the fire near #SantaPaula. Heavy smoke conditions will make visibility difficult in the area for residents and firefighters. Please use caution. @VCFD @VCSOVentura

— VCFD PIO (@VCFD_PIO) November 1, 2019
Two structures have been lost in the Maria Fire, Capt. Brian McGrath said. Crews have been deployed to protect the residences threatened in Santa Paula and Somis, he said. Flames were seen burning at an oil field in the area. County officials have not provided information about the extent of the damages. At a mobile home community at the southern edge of Santa Paula, residents are keeping an eye on the fire. "Luckily, we were not on the evacuation list last night but most of us who live here are ready and packed and prepared to leave if necessary," Ernie Franco said. Other areas of concern were the Santa Clara River bottom, where structures are being threatened, and the Todd Road Jail, Ventura County Sheriff Bill Ayub said. The blaze is burning near the facility, but is not currently being threatened.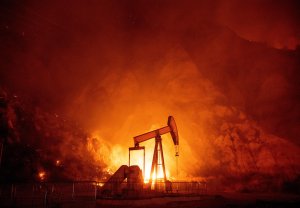 Aerial units have had to be
grounded twice due to drones
being flown in the Santa Paula area, the sheriff said. The Fire Department believes the flames will run out of fuel to burn at some point and will scorch about 12,000 acres at most.
Evacuation orders
The Maria Fire prompted mandatory evacuations in the following areas:
South of the 126 Freeway
North of Los Angeles Avenue
East of Vineyard Avenue
West of Balcom Canyon Road
Evacuation centers
Shelters have been set up at the following locations:
Camarillo Community Center 1605 Burnley St., Camarillo
Camarillo Animal Shelter (small animals) 600 Aviation Dr., Camarillo
Ventura County Fairgrounds (large animals) 10 W. Harbor Blvd., Ventura
Earl Warren Showgrounds (large animals) 3400 Calle Real, Santa Barbara
Road closures
The following roads have been shut down:
South Mountain Road between 12th Street and Balcom Canyon
Berylwood Road at Aggen Road
West La Loma Road between Center Road and Walnut Avenue
Price Road at East Los Angeles Ave (Highway 118)
Clubhouse Drive at East Los Angeles Avenue (Highway 118)
School closures
The following schools are closed Friday:
ACE (Camarillo)
Briggs School District
Dwire School
Gateway Community School
Hueneme Elementary School District
James Foster School
La Mariposa School
Las Colinas Middle School
Mesa Union School District
Mupu School District
Oxnard Union High School District
Phoenix Airport
Phoenix Los Nogales
Pleasant Valley Early Childhood Center
Ritchen Preschool
Santa Clara Elementary School District
Santa Paula Unified School District
Sunkist School
Triton Academy
University Preparation (Camarillo)
Ventura College
Ventura College East Campus (Santa Paula)
Williams Preschool
Moorpark College and Oxnard College will have classes Friday, the
Ventura County Community College District
said at 6:45 a.m.
Check back for updates on this developing story.
Flames from the Maria Fire burn through an oil field in Santa Paula on Oct. 31, 2019. (Credit: JOSH EDELSON/AFP via Getty Images)

Firefighters work to control flames from a backfire, which is a blaze set along the inner edge of a fireline to burn fuel in the path of a wildfire, during the Maria Fire near Santa Paula on Nov. 1, 2019. (Credit: JOSH EDELSON/AFP via Getty Images)

Firefighters work to control flames from a backfire during the Maria Fire near Santa Paula on Nov. 1, 2019. (Credit: JOSH EDELSON/AFP via Getty Images)

The Maria Fire threatens a home near Somis on Nov. 1, 2019. (Credit: David McNew/Getty Images)

A firefighter shoots a flare gun to start a backfire at the Maria Fire on Nov. 1, 2019 near Somis. (Credit: David McNew/Getty Images)

Firefighters watch the progress of a backfire they are setting at the Maria Fire on Nov. 1, 2019 near Somis. (Credit: David McNew/Getty Images)

Firefighters control a backfire they set at the Maria Fire on Nov. 1, 2019. (Credit: David McNew/Getty Images)

A firefighter uses a drip torch to start a backfire while battling the Maria Fire on Nov. 1, 2019 near Somis. (Credit: David McNew/Getty Images)