This is an archived article and the information in the article may be outdated. Please look at the time stamp on the story to see when it was last updated.
A 55-year-old Orange man maintained he did not kill Army veteran roommate as he was sentenced Friday to 15 years to life in prison for her murder.
At a hearing at Santa Ana's Central Justice Center, Kwang Chol "K.C." Joy said her cared for Maribel Ramos more than anyone else did.
The 36-year-old woman's body was found in a shallow grave in the remote Modjeska Canyon area about two weeks after an intense search effort that followed her disappearance in May 2013. Joy went on camera at the time, expressing anxiety about her disappearance.
But an Internet search he made on a public library computer led investigators to Ramos' body. Joy searched for the location where Ramos was found, and for information on the human body decay process, prosecutors said.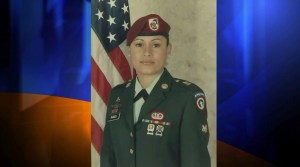 The cause of Ramos' death was never determined because of the state of her body's decomposition, according to the Orange County District Attorney's Office.
Joy was arrested about two weeks after Ramos was last seen.
No evidence tied him directly to her her killing, but prosecutors were able to convince of a jury of his guilt. He was convicted of second-degree murder in July.
"I cared for Maribel more than anyone in here. She knows it; she told me so," Joy said in court Friday.
Ramos' sister Lucy Gonzalez said his statement made her want to yell at him to stop lying to himself.
"He killed my sister, and then he sits there and says he is the person who misses her the most?" Gonzalez said. "It's disgusting."
Ramos was an Army veteran who served two combat tours in Iraq. She was a student at California State University, Fullerton, and was about to graduate with a degree in criminal justice when she disappeared.
Prosecutors said there was a dispute over rent payment at the Orange apartment Ramos and Joy had shared for two years. Joy was unable to pay his share and Ramos told him he had to move out.
Joy was also motived by feelings of unrequited love for Ramos, prosecutor Scott Simmons had argued.
"He almost got away with murder, ladies and gentlemen," Simmons told jurors during closing arguments. "He almost got away with it, but he didn't."