This is an archived article and the information in the article may be outdated. Please look at the time stamp on the story to see when it was last updated.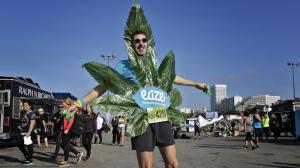 The first annual 420 Games fun run in Santa Monica started a half-hour late.
The leader of the pack threw up his hands at the two-mile mark, confused about where he was supposed to turn on the course. And the eventual winner got lost on his way to the finish line, running in from behind the crowd waiting to cheer his victory.
Jokes aside, the Saturday event is part of a larger effort to wipe away the "lazy stoner" stereotype, as laws governing medical and recreational cannabis use continue to be relaxed nationwide. Four states currently allow recreational marijuana use, and California is expected to pass a ballot measure and become the fifth later this year.
The 420 Games concept was developed by Jim McAlpine, a former executive with a ski lift company and a medicinal marijuana user. He has run similar events in San Francisco since 2014 and plans to bring the 420 Games to Denver, Seattle and Portland, Ore., later this year.
Click here to read the full story on LATimes.com.