This is an archived article and the information in the article may be outdated. Please look at the time stamp on the story to see when it was last updated.
Since Jan. 1 anyone who is at least 21 years old has been able to freely possess and consume weed on private property in California, but you still can't legally do it on the Coachella festival grounds, according to the event's website.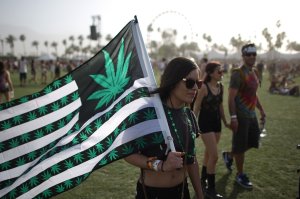 Similarly to how organizers of the sold-out extravaganza are able to place a ban on hula hoops, air horns, selfie sticks and other things that are perfectly legal, concert promoters Goldenvoice have decided to adopt an anti-marijuana policy.
"Sorry bro," states a response on the topic in the frequently asked questions section on the Coachella website. "Marijuana or marijuana products aren't allowed inside the Coachella Valley Music and Arts Festival. Even in 2018 and beyond."
That will likely disappoint many festivalgoers who expect California to be devoid of cannabis regulation — especially those attending the second consecutive Saturday of the two-weekend event falls on April 20.
However, organizers hint that the policy could change at some point in the future.
But even in previous years, when medical marijuana was legal in the state, those authorized to use it were still not allowed to do so on festival grounds.
Indio police Sgt. Dan Marshall explained the situation to the Los Angeles Daily News.
"The promoter has a standing right to the property, and they can determine what can and cannot be brought onto the premises," he said. "(For instance) you have the right to bear arms, but you don't have the right to bear arms in my house."
Indio, the in which the event is held, has not marijuana adopted a pot-friendly stance, either, according to The Desert Sun.
Weed sales, growing and delivery operations are all banned within the city limits last October, the newspaper reported. That expanded previous bans on medical marijuana businesses the city council has had in place for some time.
Other nearby jurisdictions, however, have several dispensary storefronts, including Palm Springs, Cathedral City and Thousand Palms, but some locations may not be licensed to sell to recreational customers.
The first weekend of Coachella this year will open on Friday, April 13, and the second weekend will end on Sunday, April 22, and will be headlined by Beyoncé, Eminem and the Weeknd. Tickets sold out just three hours after they went on sale Jan. 5.