This is an archived article and the information in the article may be outdated. Please look at the time stamp on the story to see when it was last updated.
A Marine was struck dead after exiting his car to offer assistance at the scene of a crash on Interstate 10 early Monday morning in Loma Linda, authorities said.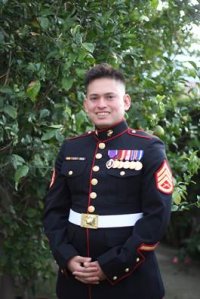 Loma Linda resident Crystal Adrianna Martinez, 22, was heading westbound on the freeway just east of Mountain View Avenue around 1:30 a.m. when she made a lane change and ran into a big rig, causing her black Toyota Matrix to roll over and block traffic, according to a statement from the California Highway Patrol. Martinez was later arrested on suspicion of driving under the influence of alcohol, officers said.
A good Samaritan stopped and got out of his vehicle to help Martinez, but was struck by another driver, Alexander Petricevic, who was approaching the crash site and only saw the Toyota directly ahead of him and veered to avoid hitting it, authorities said.
Petricevic immediately stopped and called emergency personnel, who soon arrived on scene and determined the man had died after sustaining fatal injuries, according to CHP.
Police have not yet released the identity of the victim, but his fiancée, Michelle Medina, has identified him as Enrico Antonio Rojo, a 29-year-old Marine who lived in Ontario. The couple was heading to Los Angeles International Airport with Medina's sister and dad at the time of the incident, she said.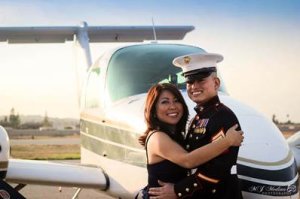 Medina's sister Mary Jane Medina said Rojo had requested they stop as soon as he saw the crash.
"He said, 'Pull over to the right,' so we pulled over to the right shoulder," she said. "And then he said, 'There's people in that vehicle, I got to help them out.'"
She saw him bend over to attempt to speak with the car's occupant as she called 911, she said. But her sister soon became worried when she lost sight of him, asking "Where's Rico?"
"I was like, 'What do you mean?' And then I was looking around, looking around," Mary Jane said. "And then — very far distance, very, very far distance — I saw a body laying on the freeway, and I was like, 'Is that him?'"

Rojo's father, Miguel Rojo, said his son died how he lived, putting others first.
"That's the kind of person he was. He went to fight for his country. He was concerned about others, as you can see from the way he died," Rojo said. "He was trying to help a perfect stranger without concern for himself. That's the one thing I'm going to take away from his life."
The couple had been planning to fly to Texas to visit Rojo's family for the holidays.
The collision remains under investigation.