This is an archived article and the information in the article may be outdated. Please look at the time stamp on the story to see when it was last updated.
A Marine military police officer is accused of strangling a woman at a Camp Pendleton beach after she refused to have sex with him in a firetruck.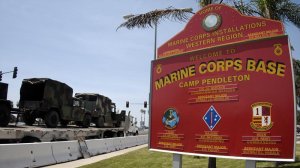 In a federal court filing obtained by the San Diego Union-Tribune this week, the Naval Criminal Investigative Service accuses Marine reserve military police officer Sgt. Daniel Jack Schumi of beating and choking an unidentified woman on Feb. 26 at the base's Del Mar Beach Rental Cottages.
Responding to an emergency call placed from a neighboring cottage at the base resort, authorities found witnesses restraining Schumi after they overhead the screams of his alleged victim and came to save her.
According to the criminal complaint, a drunk Schumi suggested to the woman that they have sex in a firetruck parked at the beach. She didn't want to do it and began packing to leave, the complaint states.
Read the full story on LATimes.com.