This is an archived article and the information in the article may be outdated. Please look at the time stamp on the story to see when it was last updated.
An active-duty Marine Corps sergeant and recruiter has been arrested after a former Orange County high school student accused him of sexually assaulting her when she was 17, police said Thursday.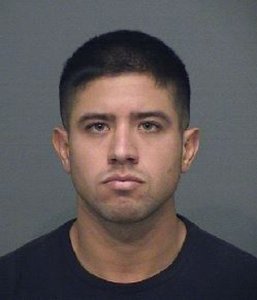 The investigation began into 28-year-old Gonzalo Castro, of San Clemente, after a former Marina High School student recently contacted authorities and filed a sexual assault report, according to a Huntington Beach Police Department news release.
The alleged victim told police that Castro — a Marine Corps recruiter and volunteer at the high school — sexually assaulted her before the school year ended, according to the release.
She said she met him when he volunteered with the school's track and field team, and she developed a coach/athlete relationship with him.
Castro was accused of sexually assaulting her during an off-campus training run, police said.
He was arrested without incident on Wednesday after detectives with the Police Department's Crimes Against Persons Sexual Assault Unit investigated the case, the release stated.
Castro posted bond and is due in court on Sept. 26
According to police, Castro is based out of the Costa Mesa recruiting office, and is a recruiter at Marina High School and Ocean View High School, both in the Huntington Beach Unified High School District. The district is cooperating with the investigation.
Investigators believe there may be more victims out there, and anyone with information is asked to call Detective Anthony Pham at 714-536-5973 or apham@hbpd.org.  Those wishing to remain anonymous should contact Orange County Crime Stoppers by dialing 1-855-847-6227.