This is an archived article and the information in the article may be outdated. Please look at the time stamp on the story to see when it was last updated.
Fifteen years after he was deported to Mexico and forced to leave his wife and children, a Marine Corps veteran will return to the U.S. and be reunited with his family ahead of the Christmas holiday, an advocacy group announced Monday.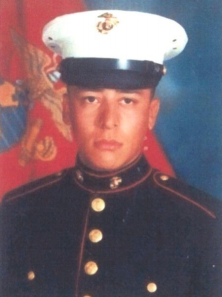 Gov. Jerry Brown pardoned Marco Chavez and two other deported veterans in April, paving the way for his homecoming. The news was first announced by Honorably Discharged, Dishonorably Deported, a coalition veterans, immigration reform advocates and other community leaders that advocated for Chavez's pardon.
Brown is the first U.S. governor to pardon a deported veteran, according to the coalition.
Though the official date of his return has not been announced, Chavez — who was raised in Los Angeles — is elated that an end to his years of exile is in sight.
"I missed the childhood of my three children and I have two grandchildren now I've not met," he said in a statement. "With the restoration of my legal status, I feel like I've been given my life back."
Chavez was brought to Los Angeles by his parents in 1973 when he was just 1 year old, the organization said. At 19, he enlisted in the Marine Corps as a lawful permanent resident and served for four years.
Around 35,000 non-citizens currently on active duty in the U.S. armed forces, and another 8,000 join every year, according to Military.com.
In 1998, he was convicted of animal cruelty. He was sentenced to two years in state prison but was released after 15 months on good behavior, the veteran's group said.
But in 2002 Chavez was deported to Mexico, where he was born, after an immigration judge considered his conviction an aggravated felony. He left behind a wife and three sons.
Veterans without U.S. citizenship are still vulnerable to deportation despite serving the country. But after Brown cleared his public record, Chavez was able to ask an immigration judge to reconsider his case.
Chavez's attorneys say his status as a lawful permanent resident — or green-card holder — has been restored.
"No one who was willing to die for this country should be deported," said Nathan Fletcher, chairman of the veterans' coalition. "In a time when the immigration debate in America seems so dark, Marco Chavez's historic legal victory and return home is a ray of light and hope."
Chavez will now be reunited with his family. Although the family of five previously tried to make it work, living in Tijuana with his wife commuting to work in the U.S., the red tape and language barrier eventually became too much to deal with.
His family now live in Iowa, according to Honorably Discharged, Dishonorably Deported. It was unclear whether he would join them there or they would resettle in California.