This is an archived article and the information in the article may be outdated. Please look at the time stamp on the story to see when it was last updated.
Former rap impresario Marion "Suge" Knight faces a new criminal charge accusing him of threatening to harm the director of the hit movie "Straight Outta Compton."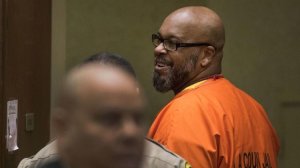 Knight, 52, appeared in a downtown Los Angeles courtroom Thursday and pleaded not guilty to a grand jury indictment accusing him of threatening death or bodily injury against director F. Gary Gray on Aug. 8, 2014. As he walked into the courtroom, Knight smiled at his family seated in the front row, including his son, who wore a T-shirt that read, "FREE SUGE."
Gray's film is a biopic about N.W.A, a seminal rap group from the early days of the genre. Knight, who is depicted in the movie, is from Compton and was an influential figure in the city's rap movement in the 1980s and '90s. After the fall of N.W.A, Knight co-founded Death Row Records with one of the group's founding members, Dr. Dre.
The 2014 threat, according to the indictment, "was so unequivocal, unconditional, immediate and specific as to convey to Felix Gary Gray a gravity of purpose and an immediate prospect of execution." The victim, the indictment reads, experienced "sustained fear" for his safety and the safety of his family.
Read the full story on LATimes.com.