This is an archived article and the information in the article may be outdated. Please look at the time stamp on the story to see when it was last updated.
Authorities are searching for four masked intruders who ransacked a home in La Habra Heights Sunday night.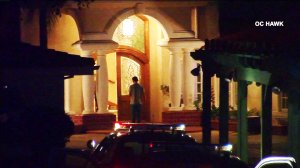 The break-in was reported just after 9 p.m. in the 2000 block of Kanola Road, Los Angeles County Sheriff's Department Sgt. Saenz said.
Two adult residents were tied up by the intruders, one of which was armed with a knife, the San Gabriel Valley Tribune reported.
The intruders took an unknown amount of goods before fleeing the home, which is located in an upscale neighborhood and valued at about $2 million.
The victims were unharmed during the incident, the newspaper reported.
No description of the intruders, or any possible getaway vehicle, was immediately available.
Authorities are checking the home for surveillance video.