This is an archived article and the information in the article may be outdated. Please look at the time stamp on the story to see when it was last updated.
Protests turned violent in Berkeley, California, on Saturday night when some masked demonstrators smashed windows while others hurled rocks at police.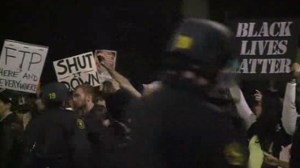 But as some broke windows at nearby businesses, other protesters implored them to stop the violence.
Police in riot gear lined the streets while others hovered nearby on motorbikes.
"A small portion of protesters have been violent. They started throwing rocks and other projectiles at our officers," said Jennifer Coats, a spokeswoman for the Berkeley Police Department.
"Some officers have suffered minor injuries as a result."
Some businesses have been damaged, including a Trader Joe's and a Wells Fargo bank, she said.
Coats said about 200 people were taking part in the fourth day of protests in the city over a grand jury decision not to indict a white New York City police officer who put Eric Garner in a chokehold on July 17. Garner, who was black, died as a result.
Nationwide protests
Protesters have taken to the streets nationwide, outraged over the decision not to bring charges against Daniel Pantaleo.
"What's happening in these cities in these last several days is incredibly important to show we have a unified voice," said Judi Flournoy, who was participating in a New York protest.
Garner's mother, Gwen Carr, has urged demonstrators to "keep on doing it, but do it in peace."
In New York, the victim's widow, Esaw Garner Snipes, has said watching the mass of demonstrators from her Staten Island home brings tears to her eyes. She said she told her son, "Look at all the love your father is getting."
On Saturday, dozens of protesters staged "die ins" — lying down on the ground in memory of Garner — at Grand Central Station in Manhattan and Union Station in Washington.
Meanwhile, New York officials said complaints against police officers had fallen significantly in the second half of the year, compared with July to November 2013.
A report that tallied complaints said 1,813 were made so far since July 1 of this year, 26% fewer than the number of complaints filed with the Civilian Complaint Review Board in the same period of the prior year. Excessive force allegations fell by 29%.
The dip followed a slight rise in the first six months of the year, the report said. But overall, allegations have declined in 2014.