This is an archived article and the information in the article may be outdated. Please look at the time stamp on the story to see when it was last updated.
The Thousand Oaks Teen Center, which originally opened for families trying to find loved ones during the Borderline Bar & Grill mass shooting, is now open to evacuees of the Woolsey Fire that continues to burn along the Ventura and Los Angeles County line Friday.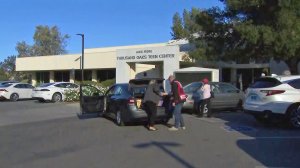 On Thursday, the center, located at 1375 E. Janss Rd., served as a reunification area after the massacre. Family members frantically tried to find out if their loved one had been killed in the shooting.
Panic ensued that afternoon as the Woolsey Fire broke out east of Simi Valley. Smoke from the blaze could be seen from the scene of the mass shooting, which was described as "horrific."
The teen center began housing people who had to evacuate as flames from a wind-driven blaze neared their homes.
Despite the fact that the shelter was at capacity for evacuees Friday morning, an American Red Cross representative said they won't turn people away.
"We do want to stress that everyone is welcome, there is no documentation required to come to an American Red Cross shelter," said Cindy Huge, who indicated that 250 residents are currently at the shelter.
Officials are assessing whether to open additional shelters nearby, as the blaze is burning in the Agoura Hills, Malibu and Simi Valley areas.
Huge said the shelter has food and water and is also accepting people with pets.
She added that those who want to help can text Red Cross to 90999 to donate $10.