This is an archived article and the information in the article may be outdated. Please look at the time stamp on the story to see when it was last updated.
BIG BEAR, Calif. (KTLA) — Police in the mountain resort town suspended their search Friday night for Christopher Jordan Dorner but plan to resume the search Saturday morning at 7:00.
Investigators believe Dorner, 33, a fired Los Angeles Police Department officer and former Navy lieutenant, is involved in the murders of a Riverside police officer and two others.
"Once it gets dark out there and the snow keeps falling and they have no air support, I don't know how effective they would be in that situation," spokeswoman Cindy Bachman of the San Bernardino County Sheriff's Department said.
Throughout Friday, more than 100 officers searched through fresh snow for clues to the whereabouts of Dorner.
The manhunt for double murder suspect and alleged cop killer Christoper Dorner, 33, continued Friday in the Big Bear area.
Heavy snow was falling on Friday morning, prompting authorities to call off the aerial search.
However, an exhaustive ground search was ongoing, and all Bear Valley schools were closed for the day as a precaution.
The Bear Mountain and Snow Summit ski resorts were open for business on Friday, after closing early on Thursday.
Schools were also locked down on Thursday, as a fatigue-clad SWAT officers began combing the area following the discovery of Dorner's burned out pickup truck.
About 125 officers would eventually be used to search hundreds of homes door-to-door and follow what was believed to be Dorner's trail.
San Bernardino County Sheriff John McMahon said at a news conference Friday morning that authorities searched throughout the night.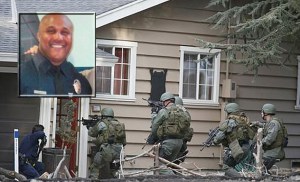 Over 100 law enforcement officers from across Southern California are still involved in the search, according to McMahon.
They plan to focus on the area where Dorner's torched Nissan Titan pickup truck was found, as well as the mountains above that.
The truck was found on Thursday off Forest Ford 2N10 and Club View Drive in Big Bear Lake. The area is about a mile away from Bear Mountain.
Footprints were found leading from the truck into the snow. McMahon said it didn't appear the tracks were headed in any specific direction.
He said that crews followed the tracks through the forest until they lost them when the ground became frozen.
McMahon said there are a number of places up on the mountain that authorities haven't gotten to yet, and that there are a lot of abandoned cabins in those areas.
SWAT officers are using snowcats and armored vehicles outfitted with chains to access the more remote areas amid the heavy snowfall.
The search will continue regardless of the weather, according to McMahon, until Dorner is found or authorities determine he has left the area.
Big Bear is expected to get 6 to 10 inches of snow about 4,000 feet and 2 to 6 inches of snow below 4,000 feet, the National Weather Service said.
Snow levels could drop to between 2,500 and 3,000 feet Friday morning and to 2,000 feet by the evening.
Wind gusts could reach 45 mph, the weather service said, and scattered showers are expected throughout the day.
It was unclear whether Dorner was prepared for the cold conditions or the rugged terrain surrounding Big Bear Lake.
Meantime, McMahon said that they are processing Dorner's truck in conjunction with police in Irvine, Los Angeles and Riverside. He didn't have any further information.
Dorner is suspected of killing a young Irvine couple, as well as a Riverside police officer, as part of a long-standing grudge against the LAPD.
He is believed to have penned a long, angry manifesto on Facebook saying that he was unfairly fired from the force and was now seeking vengeance.
Monica Quan, 28, an assistant college basketball coach at Cal State Fullerton, and her fiance, Keith Lawrence, were found shot to death in their car last Saturday.
Quan's father had been an LAPD captain, and a subject of Dorner's wrath in the manifesto police say he wrote.
Late Wednesday and on into Thursday, Dorner allegedly went on a violent rampage, shooting three police officers in Riverside County, one of whom died.
Police are reminding residents in the Big Bear area to keep their doors locked. If you see Dorner, or anything unusual, you should call 911 immediately.