This is an archived article and the information in the article may be outdated. Please look at the time stamp on the story to see when it was last updated.
Swedish retailer IKEA is preparing for the grand opening of their massive new 456,000 square-foot store, which is set to open in Burbank next week.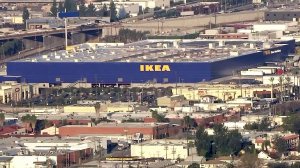 The doors open to the public on Feb. 8 at 9 a.m., but officials say customers hoping to get in first can begin lining up as early as 6 a.m.
The new store will feature a 600-seat restaurant and several play areas throughout the store.
"We cannot wait for customers to experience our new store's ease of access, convenient parking and updated layout," store manager Jeff O'Shaughnessy stated in a news release announcing plans for the store in January.
The store, built on 22 acres, is located west of San Fernando Boulevard and south of Providencia Avenue, about a mile from the old store.
Customers can continue to shop at the old store, which was the first IKEA in California when it opened in 1990, through Saturday evening when it will close permanently, according to the earlier news release.
At 456,000 square feet, the new store will be the largest IKEA in the United States, the Los Angeles Times reported.
It is also nearly twice as big as the original store, which covered a mere 242,000 square feet.
There are currently more than 390 IKEA stores in 48 countries, including 43 in the U.S.