This is an archived article and the information in the article may be outdated. Please look at the time stamp on the story to see when it was last updated.
More than a week after the Thomas fire ignited in Ventura County, destroying hundreds of homes and displacing thousands as it grew into a massive inferno, firefighters are now in a race to protect the pristine coastal communities of neighboring Santa Barbara County before a shift in powerful winds forecast for this weekend.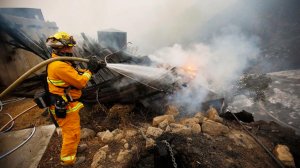 Across the mountain ridges above Santa Barbara, Summerland and Montecito, firefighters Wednesday were building containment lines, clearing brush, digging breaks and setting small backfires to burn fuel, all in an effort to create barriers to stop the forward march of the fire.
Conditions so far this week have been favorable, allowing firefighters to attack the flames on the southwestern flank of the blaze as it moves west toward the Santa Ynez Mountains.
But the National Weather Service was forecasting sundowner winds blowing southeast at up to 35 mph Friday night, followed by Santa Ana winds Saturday that, at up to 45 mph, could steer the fire toward the southwest.
Read the full story on LATimes.com.