This is an archived article and the information in the article may be outdated. Please look at the time stamp on the story to see when it was last updated.
The first 15 streets slated to receive makeovers as part of Los Angeles Mayor Eric Garcetti's Great Streets initiative were announced on Tuesday.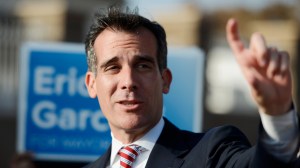 One roadway was chosen for improvement from each of the 15 council districts in Los Angeles as part of the Mayor's program.
Great Streets was designed to improve the economy and increase public safety by renovating some key community corridors, a news release from the Mayor's office stated.
"Our streets are our largest public asset, forming and reflecting the character of our neighborhoods, our people, and our city," Garcetti stated in the news release.
The Mayor's office provided the following list of streets earmarked for improvement:
• North Figueroa St between Avenue 50 & 60
• Lankershim Blvd between Chandler & Victory
• Sherman Way between Wilbur & Lindley
• Western Ave between Melrose & 3rd St
• Westwood Blvd between Le Conte & Wilshire
• Van Nuys Blvd between Victory & Oxnard
• Van Nuys between Laurel Canyon & San Fernando
• Crenshaw Blvd between 78th St & Florence
• Central Ave between MLK Blvd & Vernon
• Pico Blvd between Hauser & Fairfax
• Venice Blvd between Beethoven & Inglewood
• Reseda Blvd between Plummer & Parthenia
• Hollywood Blvd between La Brea & Gower
• Cesar Chavez Ave between Evergreen & St. Louis
• Gaffey St between 15th St & the 110
Click here for a detailed description of the 15 streets.
A map of the streets selected for improvement can be found by clicking here (PDF).