This is an archived article and the information in the article may be outdated. Please look at the time stamp on the story to see when it was last updated.
LOS ANGELES (KTLA) — Mayor Antonio Villaraigosa signed off  Wednesday on an ambitious $1.1 billion redevelopment project near USC.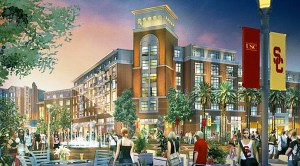 The Village at USC will include up to 350,000 square feet of retail offerings, new student housing and academic space, according to the university.
The project is the largest in South L.A. history. It will be built on 200 acres just north of the main campus.
University Village, an aging shopping center, will be torn down to make way for the new complex.
The heart of The Village at USC will include a new plaza with entertainment and retail offerings like a bookstore, restaurants, a neighborhood market and green space.
All of the land for the proposed village is owned by USC, with the exception of the fire station on Jefferson Boulevard, which will be relocated nearby under the plan.
The university has agreed to pay $20 million in "community benefits" to maintain affordable housing in the surrounding area.
Activists had argued that the redevelopment would gentrify the area, bringing in more affluent residents and students and pushing out the poor who can't pay higher rents.
USC also agreed to a 30% local hiring provision, giving priority to residents living within five miles of the campus.
The massive project is expected to generate about 12,000 jobs — 4,000 construction-related jobs and 8,000 permanent jobs.
The project was unanimously approved by the City Council in December.
The earliest construction could start would be mid-2013, and it will then be done in a series of phases. It's not expected to be completed until 2030.