This is an archived article and the information in the article may be outdated. Please look at the time stamp on the story to see when it was last updated.
A multivehicle crash in Woodland Hills that left two people hospitalized and a green McLaren sports car destroyed Tuesday evening may have been the result of street racing, LAPD said.
The crash was reported at 4:48 p.m. just outside of Hale Charter Academy, according to Los Angeles Police Department Officer Tony Im.
Aerial video from Sky5 showed a green 2015 McLaren 650 S completely totaled, with debris in the bike lane and on the sidewalk at the corner of Platt Avenue and Califa Street.
Another vehicle, a gray Audi sedan, was left on the roadway, also severely damaged.
Four vehicles were involved but two of them fled the crash, Im initially said.
On scene, LAPD Officer Charles Rodriguez said investigators believe three cars were involved and that the third took off, but he stressed it's not yet clear exactly what happened.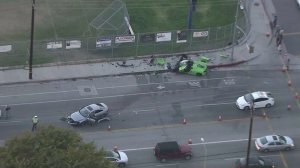 The car that fled may have been racing the McLaren, Rodriguez said. Witnesses said that vehicle was a black Dodge Charger, or possibly a Challenger.
He added that witnesses told police the high-end sports car — which has a sticker price of at least $265,000 — was traveling at a high rate of speed when the multivehicle crash occurred.
Two people were transported to local hospitals, Brian Humphrey of the Los Angeles Fire Department said. He had no information on the pair's injuries, and their conditions remained unknown as of Tuesday night.
The driver of the Audi was described as a man in his 60s or 70s, while the man behind the wheel of the McLaren is in his 40s, police said.