This is an archived article and the information in the article may be outdated. Please look at the time stamp on the story to see when it was last updated.
Joseph McStay, his wife and their 4-year-old son died after suffering multiple blows to the head, possibly with a sledgehammer, a San Bernardino County sheriff's detective testified Monday.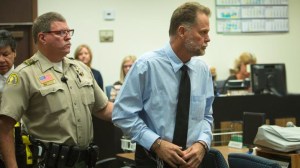 The testimony came in a preliminary hearing in San Bernardino Superior Court in the trial of Charles "Chase" Merritt, who is charged with killing Joseph McStay, his wife, Summer, and their sons Gianni, 4, and Joseph Jr., 3. The family disappeared from their San Diego County home in 2010 and were later found buried in shallow graves in the desert near Victorville.
The remains of Joseph Jr., 3, were so minimal that a cause of death could not be determined, San Bernardino County sheriff's Det. Edward Bachman told the court.
Merritt was Joseph McStay's business associate and alerted the McStays' family to the disappearance, Bachman said.
Click here to read the full story on LATimes.com. 
More Video: