This is an archived article and the information in the article may be outdated. Please look at the time stamp on the story to see when it was last updated.
Five high schools that had all-weather sports fields installed by the Los Angeles Unified School District during the last five years are replacing the turf because of what a district official says are defective materials.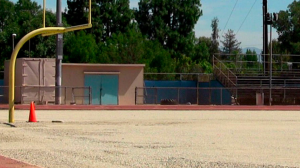 Work has begun on replacing fields at Woodland Hills El Camino Real, Fairfax and Sotomayor high schools, causing the football teams from those schools to switch home games to road games or find alternative sites. Diego Rivera High is scheduled to begin field repairs in late September. Washington Prep is delaying replacement of its field until after this season.
In several cases, the tiny pellets used in forming the base of the synthetic surfaces have melted under extreme heat, according to school and district officials.
"The pellets started melting," Richard Yi, El Camino Real athletic director , said of the Conquistadores' home field that was installed in 2010. "It gradually spread."
Click here to read the full story on LATimes.com.