This is an archived article and the information in the article may be outdated. Please look at the time stamp on the story to see when it was last updated.
Three victims of a fiery multi-vehicle crash in Chino were identified Sunday, the same day hundreds gathered at a memorial in Corona where friends said four of the men graduated from high school last year.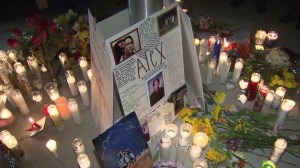 Andrew Anthony Deleon, a 19-year-old Mira Loma resident, 18-year-old Nathan Dominguez, and 47-year-old Corona resident Luis Ayala Mendoza were killed in the crash, the San Bernardino County coroner's office reported Sunday.
Officials did not release the identities of the two other victims, but friends who attended the vigil identified the other two teens as Alex Horta and Nathaniel Marin.
They said DeLeon, Dominguez, Horta and Marin were all 2013 graduates of Eleanor Roosevelt High School.
The four men were participants in the school's marching band according to friends at the memorial service.
"We're all hurting. I know there's nothing any of us can say or do, but we all have to get through this together," said Stephanie Chataline, the school's wrestling coach.
A student who did not give his name described the vigil as "emotional."
"So many people wept and wept for or loss," he said.
One woman said she went to prom with one of the men killed in the crash.
"I got that special memory I have with him," Sysenia Vargas said. "I'll always love him. He's my best friend. Everybody loves him."
The teens were riding in a pickup truck that collided with two cars near Mill Creek Avenue and Chino-Corona Road (map) Friday night, according to a Chino Police Department news release.
Two of the vehicles became engulfed in flames, and the truck overturned.
The cause of the crash was under investigation.