This is an archived article and the information in the article may be outdated. Please look at the time stamp on the story to see when it was last updated.
A memorial service was scheduled to be held on Wednesday morning for Mike Herdman, the Arcadia firefighter whose body was discovered two weeks after he disappeared while on a camping trip in the Los Padres National Forest.
Herdman, 36, went missing on June 13 when he and a friend became separated while chasing his runaway dog Duke in the Sespe Wilderness area north of Fillmore.
The firefighter's disappearance prompted a massive search that included hundreds of volunteers who searched 50 square miles by air, ground and horseback.
Eight days after Herdman went missing, his dog was found and authorities decided to scale back the search.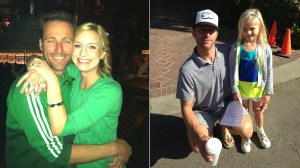 Herdman's body was discovered on June 27 in a rugged cliff area less than a mile away from where he had last been seen exactly two weeks earlier, according to the Ventura County Sheriff's Office.
He died from blunt force trauma, Armando Chavez with the Ventura County Medical Examiner's Office said. His death was ruled an accident.
The memorial service was scheduled to be held on Wednesday at 11 a.m. at the Arcadia Performing Arts Center on the campus of Arcadia High School, which is located at 188 Campus Dr. (map), according to an Arcadia Fire Department news release.
A private reception for family members would follow the service.
Starting at 6 a.m., Campus Drive will be closed to all traffic from Santa Anita Avenue to Park Avenue, while El Monte Avenue between Duarte Road and Campus Drive will be closed to northbound traffic, the news release stated.
The closures were expected to remain in place until 3 p.m.