This is an archived article and the information in the article may be outdated. Please look at the time stamp on the story to see when it was last updated.
Family, friends and colleagues paid tribute Tuesday to a fallen Long Beach Fire Department captain who was shot and killed in the line of duty.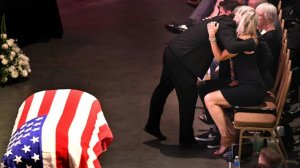 In an impressive display, hundreds of uniformed firefighters and police officers lined up in a procession to honor Capt. Dave Rosa.
A flight of six helicopters also did a flyover at the Long Beach Convention Center as people made their way inside.
Rosa, 45, was fatally shot June 25 while responding to a fire at a retirement home. Another firefighter, Ernesto Torres, was also injured in the shooting.
Thomas Kim, a 77-year-old man who lived at the retirement home, has been charged with murder, attempted murder and arson in connection with the incident.
The two firefighters were responding to a blaze at Covenant Manor about 3:50 a.m. They put out the fire, but continued to search the area after reports of an explosion and the smell of gasoline. The two were shot about 4:10 a.m., according to the Fire Department.
Rosa, who was with the department for 17 years — 6 1/2 as captain — left behind a wife and two sons.
During the service, attendees saw two emotional video tributes, one showing Rosa's family life and the other showing his life on the job.
Rosa's wife, Lynley, was presented with a Bible and his 16-year-old son Sam was presented with a memorial badge.
Rosa was described as jovial, loyal, funny and gentle, and a man who loved baseball, helping people and being a protector.
Long Beach Fire Chief Michael Duree said he met and worked with Rosa early in the captain's career, when Rosa was starting out as a paramedic.
As Rosa made his way up the ranks and eventually became an academy instructor, Duree said the role fit the captain well.
"He gave his knowledge and energy to the next generation of firefighters to ensure that they were ready to face the challenges ahead," Duree said.
The chief said Rosa's death has left a large impact on the department and the city of Long Beach. He repeated one phrase throughout his eulogy about Rosa's lasting legacy.
"In his valor, there is hope."
Duree thanked the Rosa family for "sharing" him with the fire department for 17 years.
"We will never forget his sacrifice and yours. Our fire family, your fire family, will always be here for you," the chief said.
Rosa's 25-year-old son Alec said he will never forget the early morning call he received from his mother letting him know his father had died.
He said he was in shock after hearing the news, and it wasn't until he repeated it to his friend that it hit him.
"Firemen aren't supposed to get shot," he remembered telling himself.
"I cried that day for about 10 hours. When I did stop, it wouldn't be because I was in pain, or I ran out of tears. It was because my body was numb and it physically hurt to continue to cry," Alec Rosa said.
He said that the rest of that week was "weird," because he realized he was never going to see his dad again.
"That I couldn't call him anymore, that I couldn't ask him for his advice, that I was never just going to drop by the station and hang out and talk about life," Alec Rosa said. He said he realized that he wasn't alone in his grief and that hearing people's stories about his father has helped.
Chris Hensley, the Rosa's brother-in-law, said the family took a trip to Yosemite every year and that they all would have been hiking Tuesday.
Hensley said he would miss listening to Rosa tell stories by the campfire.
He described Rosa as a man who knew the value of family, who organized an annual family picnic and Dodgers games.
Hensley also shared some "dirt" that he had on Rosa, saying that the captain was scared of spiders and was a "puker."
"He literally puked on every trip I'd ever been on," Hensley said, recounting multiple incidents: in Peru, hiking Half Dome, and on a swimming trip to Catalina.
"That being said, motion sickness never stopped Dave from pushing through. He always showed up, he was mentally tough, I admired that," Hensley said.
He shared that the last time he saw Rosa was on Father's Day, when they sat and reminisced over family pictures.
"In true Dave fashion, he forgot his swim trucks at the house that one last time," Hensley remembered. "Dave, those trunks are still waiting for you."
Friends of Long Beach Fire Department have set up memorial funds for Rosa's family.
Correction: A previous version of this story misstated the day Rosa was fatally shot.
#Funeral for #LongBeach #firefighter Capt. Dave Rosa today. Rosa was shot while investigating reports of an explosion and fire at a Long Beach retirement living building. A 77-year-old resident of the building has been charged with his murder. pic.twitter.com/mgJ90tZUcs

— luis sinco (@luissinco) July 3, 2018