This is an archived article and the information in the article may be outdated. Please look at the time stamp on the story to see when it was last updated.
Memorial services were planned for Wednesday and Thursday for Los Angeles Police Officer Nicholas Choung Lee, who was killed last week in a traffic collision in Beverly Hills.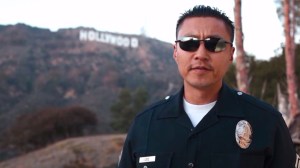 Lee, 40, of the Hollywood Division, died at the scene of the crash Friday morning when the patrol car he was riding in collided with a big rig at the intersection of Loma Vista Drive and Robert Lane (map), according to the Beverly Hills Fire Department.
The exact cause of the crash was under investigation, but a preliminary report indicated that the truck's brakes may have failed as it was traveling southbound on Loma Vista, while the patrol car was traveling northbound.
A rookie female officer — identified only as Stephanie — was also in the patrol car with Lee. She was rushed to Cedars-Sinai Medical Center and was released Saturday night, police spokesperson Rasario Herrera said.
The male truck driver was also taken to the hospital with non life-threatening injuries, authorities said.
Once Lee's body was removed from the crash site, it was escorted by a police procession to the coroner's office.
A fund has been set up at the Los Angeles Police Federal Credit Union to assist Lee's family.
A rosary service was planned for Lee on Wednesday at 7 p.m. at St. Basil Catholic Church at 3611 Wilshire Boulevard, Los Angeles (map), the department stated in a news release Tuesday.
On Thursday, a memorial service was scheduled to be held inside the Cathedral of Our Lady of the Angels at 555 W. Temple St., Los Angeles (map), beginning at 9 a.m.
The service was to be immediately followed by traditional honors outside in the Cathedral Plaza, according to the department.
A procession to Forest Lawn Memorial Forest Lawn Memorial Park at 1712 S. Glendale Ave., in Glendale (map), was expected to begin at 11:30 a.m. followed by the burial.
[protected-iframe id="4bb3f6478bfad686976bf7a02dc21a3e-41641936-41845117″ info="https://mapsengine.google.com/map/embed?mid=zafNdLMmSCCc.kUerQebZA5RM" width="640″ height="480″]