This is an archived article and the information in the article may be outdated. Please look at the time stamp on the story to see when it was last updated.
A man who struck and killed a 9-year-old boy in Orange while chasing after another driver following a minor collision received a 17-year prison sentence on Friday, authorities said. The driver he was chasing received a 4-year prison term.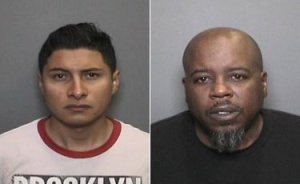 A jury convicted Roderick Kent Jerro, 53, of Orange of vehicular manslaughter with gross negligence, hit-and-run resulting in death and being a felon in possession of a firearm in August, the Orange County District Attorney's Office said in a written statement.
Miguel Villagomez, 29, of Anaheim was convicted the same month of vehicular manslaughter with gross negligence.
The charges stem from the Aug. 6, 2015, death of 9-year-old Jesse Rosales. He was struck and killed by Jerro's car while crossing Wilson Avenue at Glassell Street with his sister, officials said.
The two suspects became involved in a minor collision at Tustin Street and Palm Avenue, prosecutors said. Villagomez drove away, and Jerro chased after him.
"During this chase, both defendants sped northbound through a red light at the intersection of North Glassell Street and Wilson Avenue," according to the district attorney's office statement. It was there that Rosales was struck by Jerro's car.
Neither man stopped to help the boy, officials said. Villagomez crashed into a brick wall nearby. Jerro stopped his car near the site of Villagomez's crash.
Rosales was taken to a hospital, but he could not be saved, authorities said.
Prosecutors said Jerro has prior convictions for forgery or corruption of records, illegal gun possession, drug possession, burglary and assault.