This is an archived article and the information in the article may be outdated. Please look at the time stamp on the story to see when it was last updated.
A Menifee teen accused of killing his 11-year-old half brother — whose July disappearance generated a massive search effort — appeared in court in Riverside County Tuesday.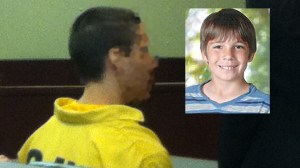 The 16-year-old, who is not being named by KTLA because he is a minor and has been charged as such, faces one count of murder in the death of Terry Smith Jr., whose body was found buried in the backyard of the home the two half brothers shared with their mother and her partner.
The teen's initial court appearance in July saw his juvenile detention hearing postponed to Tuesday, when it was again postponed to Oct. 23. With close-cropped hair and wearing a yellow jail jumpsuit, the teen appeared in the Southwest Justice Center in Murrieta.
Smith was first reported missing on July 7 and was the subject of a four-day search that brought hundreds of volunteers and officials to the desert town of Menifee, about miles 80 southeast of Los Angeles.
Smith's body was found partially buried in a shallow grave under a tree in the backyard of the family home on July 10. An Orange County woman who said she had visions of the boy led authorities to the remains, Riverside County Sheriff's Department officials confirmed.
Though the half brother is being charged as a juvenile, his hearing is open to the public because the teen is charged with murder. A judge, however, may in future decide to cut off proceedings to the media and public, according to the Riverside County District Attorney's Office.